Paying with PayPal
With PayPal, you can send payment quickly and securely online.
Through PayPal, you can pay with credit card, debit card, or bank account balance.
Once your order is submitted, you will be redirected to PayPal's page where you could make the payment.
Advantages with using PayPal:
Payment is trackable. You can track the status of your payment using your PayPal account.
Payment does not require you to use your credit card online (you can transfer directly from your bank account). We cannot see your card number (it is safely encrypted through PayPal's server), which limits the risk of unauthorized use.
Why my payment is declined by PayPal?
It is either because your card can not be used on PayPal or PayPal considers your payment is risky. You can contact your card issuer or local PayPal customer service to solve the issue.
Why PayPal won't allow me to have a different shipping address with billing address?
You have filled out a shipping address form when you placing order at imallure.com and that is the address we ship to, regardless of your shipping address on PayPal. So you can leave the shipping address on PayPal as it is.
How can i pay for my order with a bank card if don't have a PayPal account?
PayPal helps us to process your credit card or debit card payment. No matter you have an account or not, the payment will go through.
If you want to pay with your debit or credit card, after process onto the PayPal checkout page, please click the "Pay with Credit or Debit Card " button.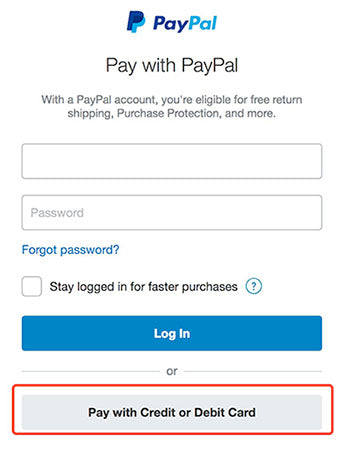 If you have question on payment, please send email to: service@imallure.com